Product
TIDAL WRAP
PT. Sumbersolusindo Hitech was established on August 25, 1992 as a supplier of branded hardware and software all over Indonesia. As Information Technology company, PT. Sumbersolusindo Hitech has expanded its business in Mechanical Engineering to handle telecommunication tower construction and maintenance projects.
Along with the rapid development of marine sector, PT. Sumbersolusindo Hitech affiliated with Key Marine Ltd from Canada established a corrosion handling and prevention division at the pier pile and also for piping.
Currently PT. Sumbersolusindo Hitech is the sole agent in Indonesia for key marine products, BTI-Tidal Wrap (previously PCS).
Supported by experts and divers who are experienced in installation of Jacket pile and other underwater work (welding, cathodic protection installation and underwater survey), and the use of BTI-Tidal Wrap material with international standard quality with 30 years warranty on material quality, Making PT. Sumbersolusindo Hitech as one of the best rust protection companies in Indonesia.
Products sold are manufactured based on ISO 9001: 2000 accreditation. Quality assurance is one of the main concerns of this market.
We are committed to assisting clients in safeguarding their assets from losses caused by corrosion and abrasives, with the experience and the use of warranted materials, Tidal Wrap.
The Problem
Unprotected marine pilings erode prematurely, resulting in corrosion of pilings and a weaker structure.
The Solution
We apply the Tidal Wrap material to protects pilings, improving the stability and longevity of the structure for years to come.
BTI-TIDAL WRAP Characteristics & Advantages
Since its first introduction in 1929 petrolatum tapes have established an enviable record of performance and unparalleled asset protection in a number of environments.
Minimum surface preparation required
Can be applied under water
Tested via 75+ year history of corrosion protection
Resistance to water, salts, alkalis and acids
Can be applied on new or corroded pilings
Mechanical covers are in one piece
High impact shock resistance for damage prevention
High capacity ultraviolet - 30+ years
Environmentally responsible and safe to use
Free of maintenance over the long-term
Installation
TIDAL WRAP is a very versatile and easy system to apply. It is virtually the only solution suitable for splashing zones, inter-tidal as well as underwater installations. The BTI Primer and Tapes will never dry, therefore, will remain soft and will not crack or allow oxygen and or water to the structure.
BTI Tidal Wrap material anti corrosion
BTI Tidal wrap is very effective to prevent and stop the spreading of corrosion in the tidal area (splash zone), with combination of Petrolatum tape & primer with Enviro liner layer 6060HD (HDPE polyolefin).


1. BTI PETROLATUM PRIMER
Description: Petrolatum based primer for application on metal surfaces prior to wrapping with BTI Anti Corrosion Tape.
Use: For long-term corrosion protection of steel piles and structural steel in marine environments. The PT Marine Tape is designed for use either immersed or above the tidal zone applications.

2. PCS PETROLATUM TAPES
Description: A specialist tape used in conjunction with the PPM Marine Primer for long-term corrosion protection of steel piles and structural steel in marine environments. The PT Marine Tape is designed for use either immersed or above the tidal zone applications.
Composition: Non-Woven Stitch bonded synthetic fabric, fully impregnated and coated with neutral petrolatum based compounds and inert fillers.
Characteristics: Designed for application under water. The tape contains a highly effective anti-bacterial agent to protect the system as well as the substrate from microbial corrosion activities. This product is free of chemical impurities and is chemically inert. It does not polymerize or oxidize, therefore retaining long-term water resistance.

3. TIDALWRAP BTI Enviro Liner® 6060HD
PCS Liner® 6060HD series is composed of a proprietary polyolefin polymer, fully protected against UV degradation and oxidation with a technically advanced stabilization package. Unlike typical black commodity plastics, which are stabilized against the effects of UV light with carbon black alone, BTI Liner® 6060 contains a technically advanced Light Stabilizer specifically designed to provide long term performance in a geo membrane as thin as 30 mils. BTI Liner® 6060HD series geo membranes contain antioxidant additives sufficient to achieve a High Pressure OIT level of more than 2000 minutes, the highest OIT performance available in the industry. Our durable BTI Liner® formulation is routinely available in white or black colors, with other colors in development.
Special benefit of Tidal Wrap (petrolatum tape & cover)
BTI Petrolatum tape & primer are very effective and appropriate using as:
Splash Zone Protection : TIDAL WRAP provides splash zone protection for steel structures, concrete and wood.
Ideal for Marine Environments : TIDAL WRAP is ideal for environments where conditions are too severe for paint systems, epoxies and other conventional forms of protection.
Stops Corrosion on Pilings : TIDAL WRAP seals the oxygen and water and effectively stops corrosion on metal surfaces.
Prevents Further Corrosion :TIDAL WRAP also prevents loosening and corrosion of steel reinforcement in concrete piles. TIDAL WRAP encapsulates pier piles, riser tubes and pipes exposed in intertidal zones and splash.
Various Configurations : TIDAL WRAP accommodates cylindrical piles and H configurations and support members, reinforcement, supports and other uneven surfaces.
Advantages and disadvantages of Corrosion prevention system that used at Splash zone area of Jetty steel pilings.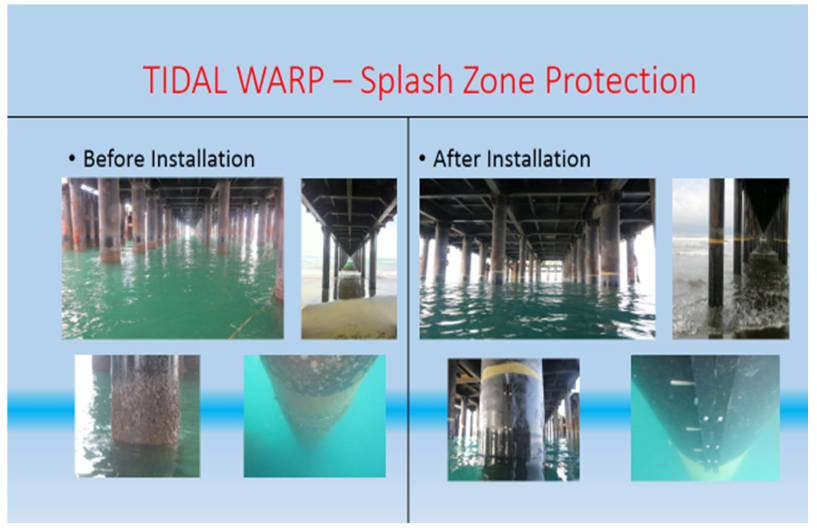 ???????
Other Product
TIDAL WRAP